Reviewer:
John W. Barker

By now, fortunately, we have come a long way since Bach's stupendously popular Brandenburg half-dozen have been hijacked and mauled by modern orchestras. We now recognize that these are all chamber works, best performed one (string) player per part. Further, it can now be recognized that these come from Bach's instrumentally experimental years where he was responding to Italian developments in the concerto—not solo ones, but ensemble ones: chamber concertos, the concerto grosso, and the concerto a sei.
They are in no sense a cycle: Bach simply took these six items from his working stockpile and bunched them together for hasty show-off submission to his hoped-for patron, the Margrave of Brandenburg. (Some of them exist in other versions.) It is only those momentary circumstances circumstances that have made us think of them as some kind of set.
Most recent recordings have accepted these revised and enlightened perspectives, as these two do. Even with such shared principles,
however, these two new releases display distinct differences. Though Mortensen's tempos are on the brisk side, he leads essentially conservative and straight-forward performances. His soloists are quite superb players. But the oddity here comes with the Concerto 5. It may be false modesty, but Mortensen, who plays the harpsichord, here is far too reticent. His playing of the remarkable first-movement cadenza is so recessive as to be barely audible. This curiosity not only disqualifies this concerto's performance but undermines the entire set.
CPO 5551582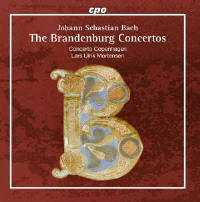 Code-barres / Barcode : 761203515820
By contrast, Bernardi's group, all Italians, are a truly supercharged bunch—as I would say in my Brooklyn youth, they have "ants in their pants". Their tempos are more than brisk. They are fast, and I mean really FAST! Though these are very accomplished players, it sometimes seems that their articulation is seriously strained in the fast movements. It might be said that this recording is charged with vitality and energy, but it's almost too much. On the other hand, Zefiro's sound is outstanding, with clarity and a close delineation of the spatial spread, far beyond what CPO gives to Mortensen's group. This is the most positive side of the Bernardi set, and it often allows us to hear striking textures. I found it most helpful for Concerto 6.
And then there is the matter of space. Mortensen gives us only the six Brandenburgs, for a very stingy pair of discs. With Bernardi's fast tempos, there is much more space to spare. And so he throws in the familiar Suite No. 2 in B minor, in a similar speedy rendition. (And there would still be room for more.) The Suite is actually given an intimate and knowing rendition: double repeats taken in the opening Ouverture and some of the most inventive of the embellishments in this set. Too many groups want to have the Brandenburgs on their trophy walls. It is no longer possible to pronounce which one of the avalanche of recordings could be proclaimed The One. Some listeners might like dancing around the room to Zefiro's Brandenburgs, and many moments are worth hearing.
<![if !supportLineBreakNewLine]>
<![endif]>
Nevertheless, I don't think that theirs is the set to live with over time. I would disqualify the Mortensen set for the miscalculated No, 5. But for a more satisfying parallel to the approach of these two sets I would recommend the Dunedin Consort (Linn 430: M/A 2014).